Reviews of Catherine Phil MacCarthy's books
Dublin Review of Books
Enda Wyley's review essay of the Daughters of the House entitled "Freed White Dove" can be seen here.
Back to the top
Poetry Ireland Review
See below for a review of Daughters of the House by Helen Meany published in the Poetry Ireland Review: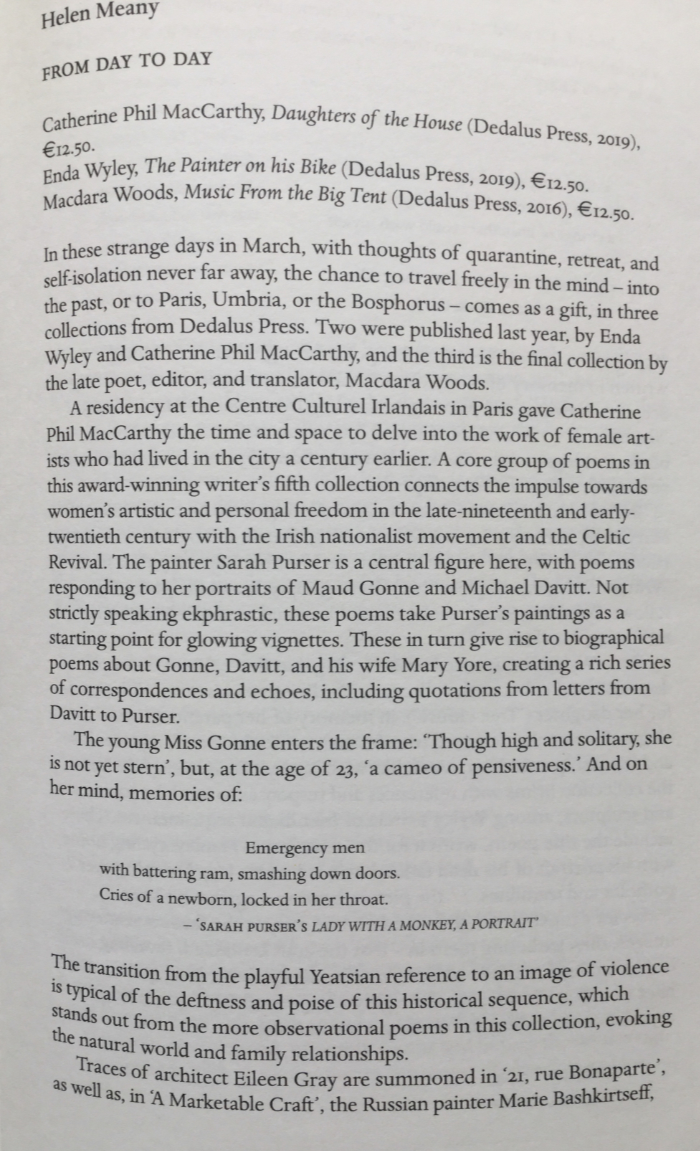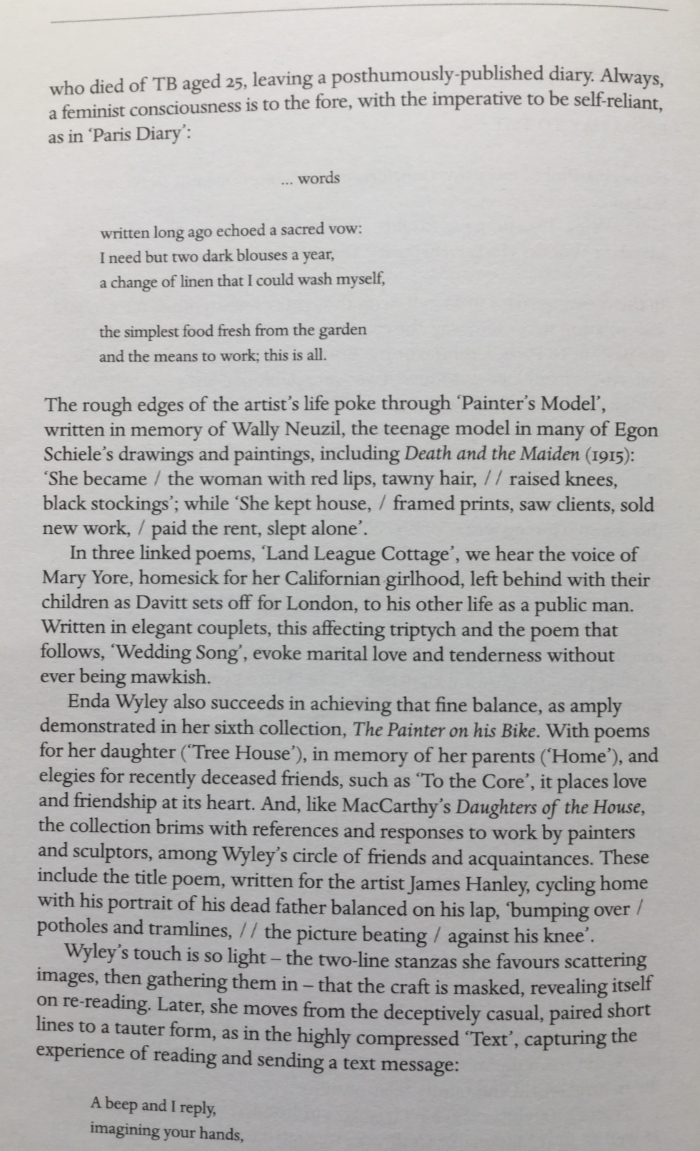 The Irish Times (30 August, 2019)
"In her fifth collection, Daughters of the House (Dedalus, €12.50), Catherine Phil MacCarthy exhibits an interest in grounding her poems in an understanding of family and inheritance, which she chooses in this book to view through the prism of Irish links to Paris.
MacCarthy relates her pictures of Paris, not to any particular French mode or poet, (her style … is plain and clear, though with some more musical forms), but to historical figures with connections there. The artist Sarah Purser is central, especially via her portraits of political figures like Michael Davitt and Maud Gonne, who are themselves each the subjects of poems …
The book's final third returns to the contemporary, with scenes of Dublin Bay, a comic take on a women-only bathing spot in London, a strikingly surreal poem called The Hat ("The hat often wished it were a bird, / as did the woman, islanded by fields / with no one to talk to but herself.") and a couple of memorable family vignettes, Prodigal, which describes her mother's death and wonders "if she knew she was dying" and I Want to Hold Your Hand whose Beatles homage is powered by lightly handled end-rhymes."
Back to the top
Poetry Ireland Review
By Tom Hubbard
Constellation and Conflagration
The very title gives us a clue. Invisible threshold, blue edge: the eye, more than the ear, will be tantalised; we're invited to the passage from one phenomenon to another, more probably its opposite… in its blurb, and in a prose quotation, invokes 'liminality', a term for which we academics reach when we have nothing much to say: poets, though, succeed where academics fail, and instead of the abstractly obvious they can offer us sharp images and rich seams of cultural reference.
Catherine Phil MacCarthy draws much on threshold experiences deriving from travel, from proximities of death and birth, from Ovid-like 'metamorphoses' (To slip the lock of words, /and throw the bolt, move at the speed of sound? — 'Harry Houdini'). She loves Thoreau's derivation of 'saunter' from 'sans terre', in reference to those who have no particular home but who are at home everywhere', and goes on to echo another American: 'across the Roman bridge of Rio Miño, to our less travelled road, //mapped and worn for centuries, become /second nature, and all, still ahead of us, and summer' (Sauntering to Ourense).
While reading I thought less of the 'liminal' than of a more enduring, more Irish, notion — Joyce's 'epiphany': 'a sudden spiritual manifestation … the soul of the commonest object … seems to us radiant.'
To read the full review click the images below.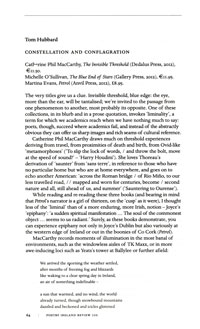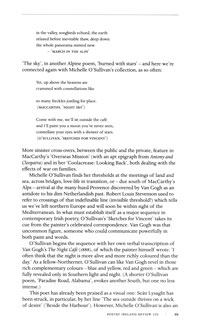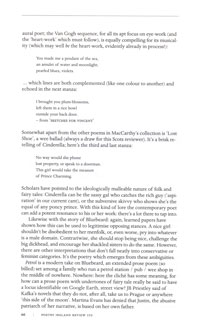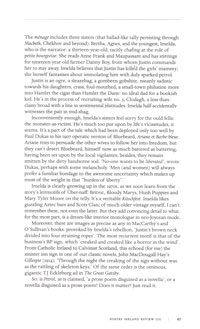 Tom Hubbard's recent collections include The Merry Dancers (Malfranteaux Concepts, 2012) with Aberdeen's City Makar, Sheena Blackhall; and Parapets and Labyrinths (Grace Note Publications, 2013).
Back to the top
Southword Journal Online
Issue 23 | December 2012
By Jennifer Matthews
In "the current climate" we're weathering a storm we never imagined would be in our future, back in the sunny Tiger days. These states of impermanence, loss and liminality are the sources for Catherine Phil MacCarthy's work in The Invisible Threshold…
The Invisible Threshold deepens the inescapable "current climate" conversation by looking beyond the shoulds, whys, what ifs (which, in poetry, is often preaching to the choir), and asks us to look at our choices in the moment and how we are coping with our troubles. These poems empower their subjects through witnessing acceptance, endurance, and persistence — virtues available to us in even the bleakest of times.
To read the review click here (Southword 23 Reviews & Criticism).
Jennifer Matthews writes poetry and book reviews, and is editor of the Long Story, Short literary journal.
Back to the top
The Irish Times
April 28, 2007, City EditionCopyright: The Irish Times, 2007
By Thomas McCarthy
CATHERINE PHIL MACCARTHY has developed a confident and enduring personality in poems. Her Suntrap sparkles with life and light — and, for her, light is both a method and a metaphor. The title poem contains a timely warning about the dangers of too much light:
Now he dips
the silvery rim as if he's fishing air
to trap the sun on newspaper, angling it
closer so it smoulders and takes fire,
and I learn for the first time how to burn.
The poem says everything: how the physical world retains its own narrative, even while critical or intellectual worlds suffer trauma and storms, and how the soul yearns for light, not just of experience, but of understanding: "treading hard against/the weight of dark/to a trap of light/was your instinct to survive."
MacCarthy has also created a great travelogue of contemporary Irish life. Her poems move from the west coast of Ireland, with its own kind of light, to that truly sunlit porch, the suntrap of Spain or Africa. This is the poetry of experience, not escape:
cocooned by squabbles
of Breton children, a pair of fireflies
dancing in the glow of kerosene
— Camping in Mesquier
But it is as love poet that Catherine Phil MacCarthy triumphs. From This House of the Tide, published 13 years ago, to the present collection, she has been a powerful, chthonic observer of love in all its forms. Suntrap continues this vein in its chronicling of the robust power of attachments, from the primal power of "Dance" to the sexual intrigue of "Another Woman." Here is a poet, then, who becomes stronger with each new collection, a poet who understands that furnace of love while longing for late winter ice to hold firm along the Shannon.
Thomas McCarthy's most recent collection of poems, The Last Geraldine Officer, is published by Anvil Poetry
Back to the top
The Irish Times
July 19, 2003, City EditionCopyright: The Irish Times, 2003
All about Eve, Patrick and fiery Kate By Clare Hutton
There are elements of this story that readers of Irish fiction will have encountered before. A young woman from rural Ireland — in this case, Eve, from Dingle — moves to London and begins a passionate relationship with an older man — in this case, Patrick, her South African boss, who is father to Kate, a fiery and unpredictable teenager.
The traditional narrative of sexual liberation in England dictates that it should all end in tears, with the embittered woman being returned to home ground and emerging wiser, or pregnant (or both). But this debut novel takes the story in new directions, by exploring the emotional consequences and difficulties of marital breakdown, particularly for children. Kate is reluctant to accept Eve ("why don't you stick with people your own age?"), and forces her to consider the responsibilities associated with becoming a step-parent. These experiences make Eve question the separation of her own parents in pre-divorce Ireland, their subsequent relationships, and her mother's continued emotional froideur.
The novel also explores Eve's sense of cultural dislocation in London, which is magnified when she compares her own wish to continue belonging in Ireland despite her absence ("it'll always be a part of me"), with Patrick's markedly nonchalant attitudes to post-apartheid South Africa.
The denouement is both gripping and surprising, and the book will satisfy those looking for a good summer read.
Clare Hutton researches Irish book history at the Institute of English Studies, University of London.
One Room an Everywhere, By Catherine Phil MacCarthy, Blackstaff Press, 184pp, £6.99.
Back to the top
The Irish Times
May 16, 1998, City EditionCopyright: The Irish Times, 1998
Things' thinginess by Caitríona O'Reilly
The scorchingly personal quality of Catherine Phil MacCarthy's second collection, the blue globe (Blackstaff, (pounds) 6.99 in UK), is decidedly convincing. The volume is composed for the most part of beguiling short lyrics, executed with skilful economy and a painterly deftness. MacCarthy's eye for detail is both accurate and moving —
your missal fat as a tick
with mortuary cards and prayers,
a Cadbury's box of letters
you read fragments from,
knitting patterns (Grace Kelly
blondes, FOR MEN in cable sweaters).
— and the mysterious spareness of poems such as "Acts of God" or "Marooned" is highly effective. There is a clear debt to the Heaney of North in "Lucy's Song": "Uncover my bones, long dead and clean,/ The moon of my skull that gleams in the mire …", and there are echoes of Eavan Boland elsewhere. But MacCarthy's avoidance of the temptation to generalise works to her credit; these poems quietly convey a powerful sense of the value of experience, especially in the delicately erotic "Thirst", and in "Fires." Few of the poems are longer than a page, and their lineation is similarly tight; lines containing only two or three words are commonplace. One feels that MacCarthy could easily stretch herself to longer, more ambitious forms without compromising her poise and control, and that future collections would benefit from this variety.
Caitríona O Reilly's most recent collection is The Sea Cabinet, Bloodaxe Books, 2006.
Back to the top
The Irish Times
May 21, 1994, City Edition Copyright: The Irish Times, 1994
Glimpses of awakenings By David Wheatley
In "Barley Sugar" the opening poem of Catherine Phil MacCarthy's collection This Hour of the Tide, with its cowslip picking author straggling home
late for breakfast,
pinafore laced wet
to greet my father
outside our backdoor
with eggs in his upturned hat.
the sureness of touch is immediately recognisable. It is no faint praise to say that, almost to poem, this collection achieves exactly what it sets out to. In "Killing the Bird", "Sweet Afton", and "The Thrush's Nest", for instance, there is the sharply focused vignette of rural childhood life; in "Stone Circle", "Making Hay", "New Moon", finely understated lyrics of awakening and awoken sexual life; in "Anaconda", a refreshingly self-effacing stab at that tiredest of genres, the picture poem; and in a more ambitious lyric such as "The Opal", the unexpected translation, as Eavan Boland has gratefully acknowledged, of the smallest external stimulus into "a foreground of human feeling and human threat". Here are the final eight lines from "Making Hay":
Beneath my palm your chest is
fur, then silk
stops at the fragrance
of hay, fresh cut,
falling evenly from
the blade behind the horse,
ripe seeds not yet
surrendered to the earth.
The success of this poetry, here as elsewhere, is primarily a matter of creative tact, of finding the right words to allow the experience to speak for itself without poetic heightening of any sort. If the final nine poem sequence, "The Crossing" does not quite come off, it is perhaps for this very reason; however individually successful, its component parts seem too little convinced of their larger destiny to gel into the dramatic unity of a sequence proper. In the same way, This Hour of the Tide, viewed as a whole, contains no obvious bravura pieces, or tours de force; how incongruous the very idea seems in discussing MacCarthy's work is symptomatic of the strengths and weaknesses alike of this, promising first collection.
Back to the top
April 8, 1994, Weekend SupplementCopyright: The Irish Times, 1994
Reader's Choice By Eavan Boland
This Hour of the Tide (Salmon/Poolbeg, £5.99), by Catherine Phil MacCarthy, is not just a book that I'm reading, it's one I'll return to. The poems are fresh, definite snapshots of very elusive feelings. What's more they give access to the subject without compromising its intent — something any poet finds hard to do. There are poems in it about schooldays, seasons and some wonderful ways in which the countryside is evoked through memory and regret. It is the work of a very gifted, very interesting and new Irish poet.
Eavan Boland's latest work is A Journey with Two Maps: Becoming A Woman Poet (prose essays), Manchester: Carcanet Press, 2011; New York: Norton, 2011.
Back to the top
The Irish Times
Back to the top