The Invisible Threshold (2012)
Catherine Phil MacCarthy's fourth collection, The Invisible Threshold, explores the idea of 'threshold' or the 'liminal' from several angles, the state of being in transition from one moment to the next. These poems celebrate life with a deep sense of wonder. They capture transformational moments of experience where mortality and loss as well as the ties between the body and the spirit are explored. Reconciliation with a mother's death brings 'a sense of first breath on the earth,' ('Facing the Rising Sun') and acknowledges that grief delivers a new freedom, where intense life is 'open to pure being' ('Turning South') and the abundant energies of summer.
The Invisible Threshold was shortlisted for The Irish Times Poetry Now Award in 2013, won by Dennis O'Driscoll for his collection Dear Life. It is the only award of its kind that recognises and rewards work by Irish poets and was announced on September 7th at the Mountains to the Sea DLR Book Festival.
Back to the top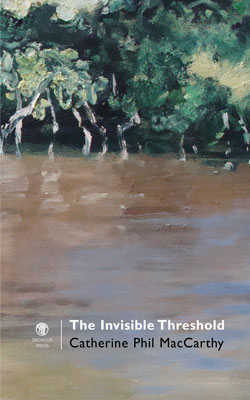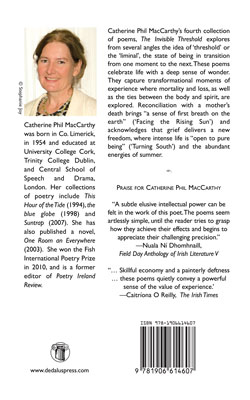 (Click on either cover for a larger view).
Cover image: River and bank, The Quay by Bernadette Kiely.
Back to the top
The Invisible Threshold can be purchased from the following online sources (links open in a new window):
Back to the top
Poetry Ireland Review
Tom Hubbard, Constellation and Conflagration, p64
The very title gives us a clue. Invisible threshold, blue edge: the eye, more than the ear, will be tantalised; we're invited to the passage from one phenomenon to another, more probably its opposite… in its blurb, and in a prose quotation, invokes 'liminality', a term for which we academics reach when we have nothing much to say: poets, though, succeed where academics fail, and instead of the abstractly obvious they can offer us sharp images and rich seams of cultural reference.
Tom Hubbard's most recent collection is The Chagall Winnocks (Grace Notes, 2011).
Southword Journal Online
Issue 23 Reviews & Criticism December 2012-January 2013
Follow this link to read Jennifer Matthews' review of The Invisible Threshold published in the online version of the Southword Journal.
Back to the top